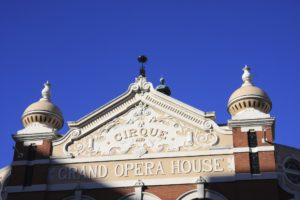 Belfast Theatre & Concerts
Belfast is full of culture and historic buildings.  We've brought together some of the highlights and lesser-known treasures to help you book your next theatre or concert tickets.
You may recognise some of these places but there's a whole lot more waiting to be discovered.  Please check out the list below to find out whats going in Belfast.
The Grand Opera House is Northern Ireland's premier theatre, presenting an outstanding programme of drama, dance, opera, comedy, musicals and family shows.
Bert's Jazz Bar encapsulates the sleek elegance of the art deco era, complimented by the very best in live jazz, fabulous cocktails and mouth-watering food.
The award-winning Lyric Theatre makes a unique and vital contribution to the community as the only full-time producing theatre in Northern Ireland.
The MAC is a cultural hub and since opening in 2012 has quickly become a beacon for the ongoing regeneration of Belfast.
Ulster Hall is a concert hall and grade B1 listed building in Belfast, Northern Ireland. Situated on Bedford Street in Belfast City Centre, the hall hosts concerts, classical recitals, craft fairs and political party conferences.
The Belfast Empire represents an original and versatile venue that is adaptable for multiple uses – from small intimate cabaret to fashion shows and concerts of all shapes and sizes. The stunning interior and attention to detail ensure our award winning venue adds something different for all types of events.
Performance and arts venue with music, theatre, comedy, film, visual art, circus, cabaret and bar.
Venue in 4-storey historic building, staging dance, music, theatre with classes and workshops.
To view Belfast's other theatre and concerts, please visit the following website for further recommendations.
15:49 29/08/2017