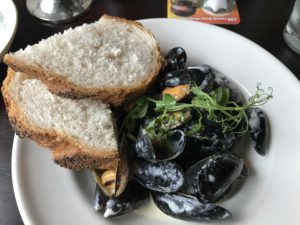 Top Ten Restaurants in Belfast
Its Restaurant Week in Belfast, to get in the mood we have listed the top ten 'moderately priced' restaurants operating in Belfast right now. With a wide variety of culinary styles and cultures Belfast has lots to offer the adventurous (and slightly more cautious) Foodie.
#1 Jumon
McAuley House, Fountain Street, Belfast | 028 9023 1394 | website
They say:
"I can't control everything in my life however I can control what I put in my body" Zen believe you are what you eat and this ethos is strongly reflected in our plant based menu – offering an Asian take on healthy, balanced food and drink."
Critics say:
"It's a brilliant, innovative restaurant, with huge flavours that more than make up for the absence of meat on the menu." – Irish News
#2 YUM
157 Stranmillis Road, Belfast BT9 5AJ | 028 9066 8020 | website
Irish, European, Modern Cuisine. Vegan, gluten-free & vegetarian friendly. Serving breakfast, lunch and evening meals.
They Say:
"We have an enthusiastic team of chefs who have put a modern quirky twist on the classics. We are excited to offer a menu with a wide range of dishes and tastes, that you can relax and enjoy in elegant and comfortable surroundings."
Critics Say:
"Visited here for lunch today, everything was faultless, beautiful food and very friendly staff – service with a smile! …This was my first time at Yum and I can say I'll most definitely be back!"  mmorren500 – TripAdvisor
#3 Holohan's Pantry
43 University Road, Belfast BT7 1ND |028 9029 1103 | website
They Say:
"Seasonality is hugely important as is the use of excellent, ethically sourced local produce. More importantly, we showcase the diversity of Irish cuisine using recipes from all over the Island, with the North a particular focus. We interpret and update classic Irish dishes and keep the menu small to really focus on the quality of each dish. "
Critics Say:
"Holohan's is a great asset to Belfast. If you're visiting Ireland and want to taste something which belongs to much older times, but has all the appeal of modern cooking, you really couldn't go past it. "– Belfast Telegraph
#4 Holohan's at The Barge
1 Lanyon Quay, Belfast BT1 3LG | 028 9023 5973 | website
They Say:
"Like most cultures who value food as an important aspect of every-day life, our culinary heritage is wide and diverse, taking in influences from all over Europe through port cities such as Cork, Galway, Dublin and of course Belfast. The use of spice goes back hundreds of years, and we have always had a penchant for importing large quantities of French wine."
Critics Say:
"Aboard the Belfast Barge, Holohan's is a sensational find for inspired twists on seafood and superb cooking of traditional Irish recipes such as crabachain, a mushroom, chestnut and tarragon fritter. Desserts are excellent too, and wines from around the world are served by the glass." – Lonely Planet
#5 Ginger Bistro
68/72 Great Victoria Street, Belfast BT12 5EE | 028 9024 4421 | website
Irish traditional food, with some Asian influences
They Say:
"The Ginger Bistro was established in the year 2000. Located in the heart of Belfast City Centre, Ginger is now recognised as one of Belfast's finest, multi award winning restaurants."
Critics Say:
"Can't recommend the Ginger Bistro highly enough, the restaurant has a lovely ambience, the staff are fantastic, and the flavours of the food are exquisite. Very reasonably priced for the quality of food." Batofamily – Tripadvisor
#6 Kathmandu Kitchen Nepalese & Indian Restaurant
11 Botanic Avenue, Belfast BT7 1JG |028 9024 9264 | website
They Say:
"Authentic Nepalese restaurant in Belfast"
(No fancy words here! Just good wholesome traditional Nepalese cooking, and warm customer service going by their Facebook posts )
Critics Say:
"The Nepalese food served here is like Indian food for grown-ups. There are as many Hindu-compliant vegetarian dishes as there are others from all sorts of meat-eating ethnic Nepalese groups… The Kathmandu Kitchen is worth a detour and for those with a curry head, it's a must just to broaden the experience and see what interesting things happen when the food we know as Indian curry begins to morph into something approaching Tibet and China, by way of the Himalayas." – Belfast Telegraph
#7 YuGo
3 Wellington Street, Belfast BT1 6HT |028 9031 9715 | website
They Say:
"Yugo is a new, vibrant dining experience in the heart of Belfast city centre that delivers delicious and remarkable food and drinks. Everything we offer meets the highest standards of quality and freshness combining modern- creative and traditional Asian styles of cooking with a Belfast Bushido attitude!"
Critics say:
"The food was out of this world. From the crispy pork, dumplings, bao buns, duck and dessert. So delicious!!! Also, restaurant is very hygienic and the design is so cool as well." – Matthew Abela, Google Reviews
#8 3 Levels Asian Fusion
31 University Road, Belfast BT7 1NA | 028 9091 4267 | website
They say:
Teppanyaki :
"It's not just a delicious taste of Japan but a whole concept of entertainment. Customers sit around a granite counter topped with a gleaming steel plate whilst the specialist chefs juggle their knives and perform miraculous cutting feats while sautéing a mouth-watering combination of steak, chicken, seafood and vegetables."
Critics say:
"The cozy atmosphere of this restaurant allows customers to relax after a hard working day. The cool staff works hard, stays positive and makes this place wonderful. The fabulous service is a big benefit of 3 Levels." – Restaurant Guru
#9 The Welcome
22 Stranmillis Road, Belfast BT9 5AA | 028 9038 1359 | website
They say:
"The Wong family opened their first Welcome Restaurant in Northern Ireland in 1973. The Stranmillis restaurant was opened in 1982 by the then Lord Mayor, Tom Patton. Now in it's second generation, it is the longest established Chinese restaurant in the country."
Critics say:
"The dishes are created with balanced flavours of sweet, salty, sour and umami – and the results will blow your taste buds out of the water. Then menu at The Welcome is packed with all the classics you'd expect, alongside some signature dishes that have made this Stranmillis Road restaurant the foodie favourite it is today." – Quandoo
#10 Cinnamon
47 Comber Road , Dundonald, Belfast BT16 2AA | 028 9048 0680 | website
They say:
"One of the most important aspects of Indian cuisine is how diverse it is when compared to the rest of the competition. Cinnamon Indian Dundonald gives you the perfect opportunity to taste the myriads of flavours of the Indian cuisine under one roof. "
Critics say:
"Unbelievable taste and flavours!!! I was never a big fan of Indian food! I am completely converted absolutely love this place nicest Indian I've had … I go every week now." Jordan Minta – Google reviews
So get booking! And start eating!
Top Ten Moderately Priced Restaurants as listed on TripAdvisor 13.02.19
10:36 19/02/2019