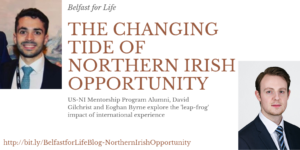 The Changing Tide of Northern Irish Opportunity
Eoghan Byrne and David Gilchrist are members of the Alumni of the US-NI mentorship program, returning to London after spending 2017 In New York City.
For anyone who knows us and is familiar with the "Belfast for Life" initiative and the general mission behind the work they do, it may seem counter-intuitive for us to be writing an article for the site about the opportunities in Northern Ireland.
In many ways we are the personification of the brain-drain, we both currently live in London, and while we are both Northern Irish, we both left to pursue opportunities that we deemed to be unavailable to us locally. Even more at odds with Belfast for Life, neither of us intend to relocate home in the immediate future.
US-NI Mentorship Program
We first met in January of 2017, when we arrived in (a rather snowy) New York City to begin our work placements. David, with a C-suite Advisory firm and Eoghan with a Big 4 accounting firm.
We had travelled to America with the US-NI Mentorship Program and were about to begin our yearlong paid placements with top tier firms in the city.
The US-NI Mentorship Program was founded in 2011 by Declan Kelly, former US Economic Envoy to Northern Ireland and current Chairman and CEO of Teneo. Its aim is to provide high-potential university graduates, from Northern Ireland, a chance to work with international corporations in one of the world's largest economies, the US.
They encourage entrepreneurship and allow their participants to hone their management skills within a large and dynamic corporate environment, gaining skills and experience which they can take back to drive the Northern Irish economy. The program's alumni (just over 100 individuals) have had a significant impact across many fields.
As a result of the program we have been in a position to lead successful bids to bring both the World Economic Forum's 2018 Shape Europe conference and Fenox VC's Start up World Cup to Belfast.
Alumni have the opportunity to become members of philanthropic organisations such as the Ireland Funds. Members have developed relationships with Ambassadors, Consul Generals, and leaders in Northern Ireland business, politics, and government. Several members have gone on to study at some of the world's most prestigious universities (including Harvard).
The Brain Drain
Not everyone who is exposed to a year of international business experience is willing to relinquish the types of roles US-NI afforded them by coming back to Northern Ireland.
This was the decision that we both faced in December of 2017, and in both of our cases we chose opportunities in London, but not because of a lack of opportunities at home. We chose London because our year abroad was perceived as more valuable there; it offered us an opportunity to progress our careers and effectively leap-frog a step, rather than re-enter in at a graduate level at home.
Essentially, we chose the London option because our year in New York was perceived, not simply as a year of experience, but rather as a key differentiatior for prospective employers in there. The long-held narrative of a brain drain in Northern Ireland, we consider to be true. When we think of our peers and former classmates, a large portion of them are now living elsewhere.
We believe the brain drain isn't caused by a lack of opportunities, this couldn't be further from the truth. Northern Ireland has plenty to offer recent graduates, such as globally successful home-grown companies like Kainos or First Derivatives and FinTrU and large multinationals like the Big4, Allstate and Citi Bank. There is also a variety of accelerators and tech hubs, all of which has created extensive opportunities for young people. In our opinion the perpetuation of the Northern Irish brain-drain is caused by much more than a lack of opportunities; it is caused by the mismatch between the perceived organisational cultural norms, such as waiting your turn for a promotion, or "dead man's shoes"and the engagement of Northern Ireland's young talent.
Graduates from Northern Ireland
Consider the types of initiatives that are available to graduates from Northern Ireland, such as the USNI Mentorship Program or the Washington Ireland Program, where graduates work with the highest levels of Government in the US. In these scenarios we are effectively taking some of our most ambitious and hard-working young people and enabling them to accelerate their career development, professional network and business acumen. We then bring them back to an environment which is perceived to be antithetical to this mentality.
Long-story-short: ambitious young people want to make an impact and work within meritocratic environments, more needs to be done to show them that they can do this within organisations back home.
The calibre of the young people our country is producing, most being driven, hard-working individuals, are outperforming their peers across the UK. Initiatives such as Generation Innovation and Young Enterprise are doing excellent work in celebrating and cultivating this drive, to ensure that we are changing this point of view across all demographics.
The Future
While it seems that more work needs to be done to keep as much of our talent at home in the first place, we can testify through our personal journeys that talent which 'leaves' Northern Ireland is not lost forever.
We both have strong roots within Northern Ireland and, like many other people throughout the diaspora, we want only good things for home. We want to stay connected to that progress.
Initiatives such as Belfast for Life, showcasing the benefits and opportunities available back home, offer more than enough to reel individuals back in. Individuals that will bring with them multinational experience that can be harnessed to further the Northern Irish economy.
We are both in a position where we have the rest of our careers ahead of us, and we need to decide where we want to make impact. The initiatives, careers available and companies present, all show Northern Ireland to be an option. An option which is furthered by attractive house prices, levels of education, quality of life and the chance to make a tangible impact. It takes more than this, however, to draw a passive individual back home, it takes a sense of connectedness and responsibility, and a sense that they can make an impact at home (no matter where they are living).
Therefore, we would like to propose a new model to advance this decision making process across the minds of similarly minded and situated individuals. We propose that the interim period, where Northern Ireland should do more to engage with young people at home, is also met with more engagement with those that are set on leaving. If we offer a community to those that want to leave to gain new experiences elsewhere, we can nurture them, keep them connected and provide them with a platform to know about opportunities at home that will allow them to make an impact.
To conclude, we as a region are at a pivotal point. Without dwelling too much on the political uncertainty that is permeating across all sectors of the UK, one thing is clear: Northern Ireland is open for business and full of opportunities. We as a community just need to work together to ensure we are shining a collective light on these opportunities so we can retain our young talent, attract our experienced people back home, and remind the wider Northern Irish diaspora that Belfast is for life.
David Gilchrist is a Technology Strategy Consultant at KPMG
Eoghan Byrne is an Independent Consultant Researcher working in Global Executive Talent Acquisition
They both live and work in London
Connect with David Gilchrist and Eoghan Byrne through LinkedIn by clicking their profiles below.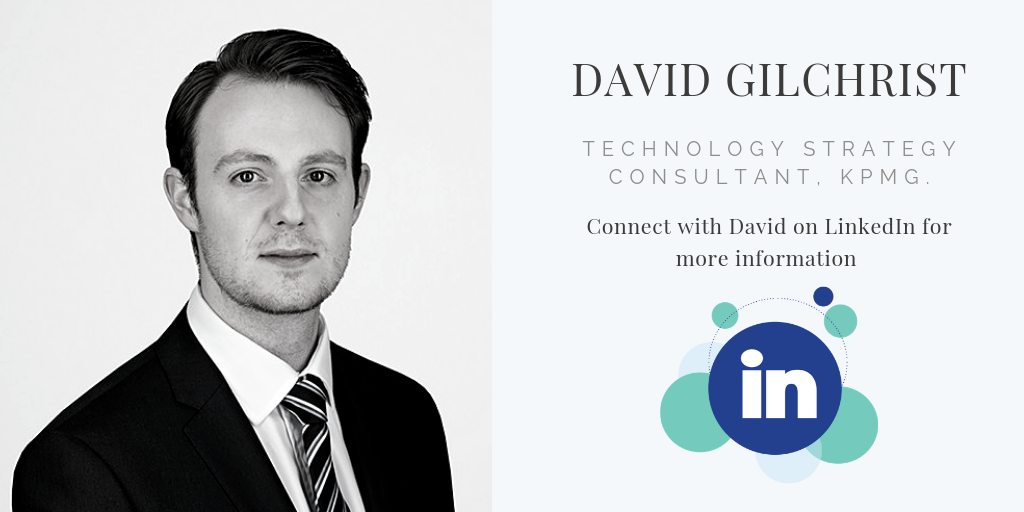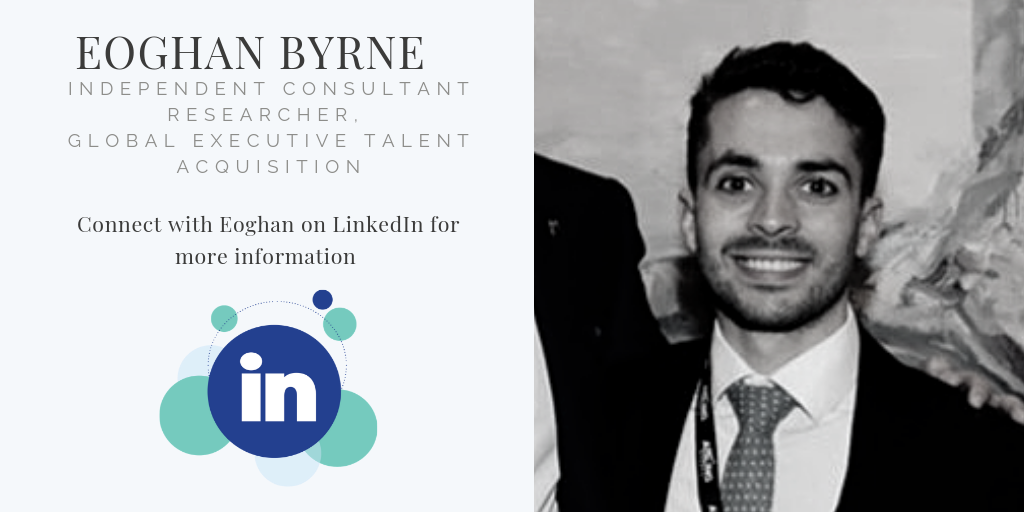 If you have an opinion you would like to share on the diaspora, relocation, the brain drain, or anything connected with living and working in Belfast, get in touch!
15:54 30/04/2019