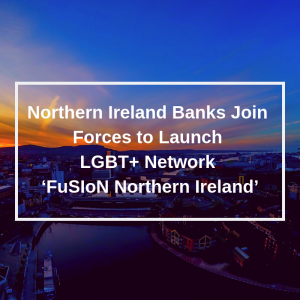 The Financial Services Inclusion Network, is a group designed to promote and drive LGBT+ inclusion in the Financial Services industry in Northern Ireland.
The original group was established in the Republic of Ireland in 2017 and now 15 banks have signed on for the programme in Northern Ireland.
Their launch event, hosted by Bank of Ireland UK, was the first in several steps being taken by the group, to promote a more supportive community for LGBT+ Financial Services professionals in Northern Ireland.
Through a series of meetings, quarterly events, and the sharing of best practice, they hope to shape the structures by which the 15 member banks and those in the process of joining, can explore and promote the theme of 'Inclusion and Allyship' which was the focus of the launch event.
Speakers at the event included representatives from Ulster Bank, Halifax, Bank of Ireland UK, First Trust, Citi, PwC, EY and Barclays. There were also panel discussions and a performance from musical guest, Conleth Kane.
Ian Sheppard, managing Director NI at Bank of Ireland UK stated:
"At Bank of Ireland UK our purpose is to enable our customers, colleagues and communities to thrive and it's important that we reflect the diversity of our customer base and foster a safe and inclusive culture for all of our colleagues. We are proud to be working with each of the member organisations to make the Northern Ireland financial services sector a great place to be for our LGBT+ colleagues."
Gregory Mallon, Team Manager and LGBT+ Regional Lead at Lloyds Banking Group NI, was a key player in forming the network in Northern Ireland, along with other founding members. He has said
"I am incredibly proud to bring FuSIoN's mission to Northern Ireland, where our goal is to promote and drive the inclusion of LGBT+ professionals across the financial services industry.  I see FuSIoN as a place where members of our sector's community can grow and learn from one another to support others to become the best they can be."
For more information on FuSIoN Northern Ireland contact [email protected] or check out the group on Twitter @Fusion_NI.
For more good news stories from Northern Ireland check out our Local News blog
13:34 29/07/2019